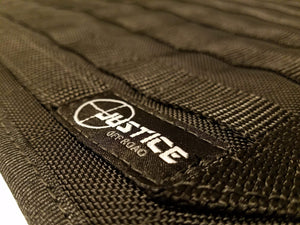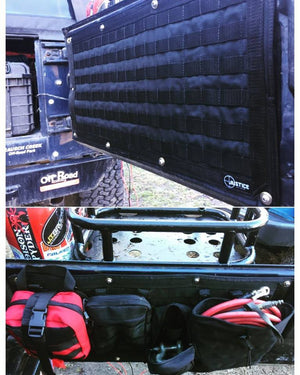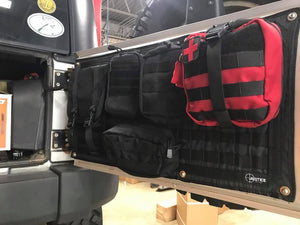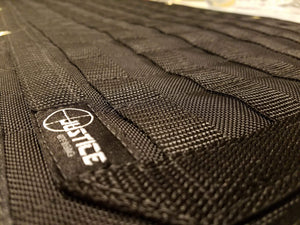 Product image 1

Product image 2

Product image 3

Product image 4

When searching for a storage solution for our Jeep Wrangler JKU, many options offered on today's market did not fit our needs or were just plain junk!
We wanted a tailgate panel and fasteners that would hold up to the abuse, dirt, wind, rain, sun, and various other weather conditions experienced when out on the trail. So we set out to design our own! 
Justice Off Road is proud to introduce their new heavy duty "Mil-Spec" Molle* Panel designed for the Jeep Wrangler TJ, LJ, JK, and JK Unlimited Tailgates.
Triple Stitched Heavy Duty Webbing
CORDURA Military Grade Nylon Fabric
Water Resistant Coating
Conforms to Military Type III Specs
Designed to be PALS** Compatible
Rivnuts provide a permanent mounting solution to the tailgate
8 mounting locations
Replaceable Stainless Steel Hardware. 
Mounting hardware, Riv-Nut Tool, and instructions are included!

MADE IN THE USA!
      COLOR:  RAVEN BLACK
*MOLLE (pronounced /ˈmɒl.liː/, as in the female name Molly) is an acronym for Modular Lightweight Load-carrying Equipment. It is used to define the current generation of load-bearing equipment and backpacks used by a number of NATO armed forces, especially the British Army and the United States Army.
**Pouch Attachment Ladder System or PALS is a grid of webbing invented and patented by United States Army Natick Soldier Research, Development and Engineering Center used to attach smaller equipment onto load-bearing platforms, such as vests and backpacks.
  Contents:
1 – Mil Spec Molle Tailgate Panel
8 – Rivnuts
8 – Stainless Steel Pan Head Bolts
8 – Stainless Steel Washers
1 - Rivnut Tool